Welcome to Sprocket School! This project is maintained by volunteer editors. A guide to editing.
List of analog film exhibitors
Jump to navigation
Jump to search
A list of exhibitors who intentionally show films on film to the public — cinemas, movie theaters, festivals, museums, and itinerant groups.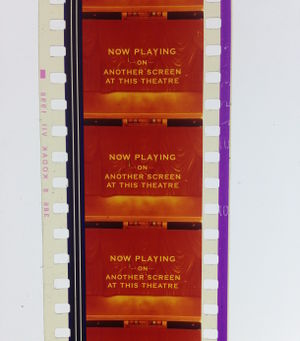 The list includes exhibitors who show a mix of film and digital and exhibitors who only occasionally show film, as well as exhibitors who show 16mm or other small gauge film but not 35mm. The list excludes exhibitors who show film only because they have been unable to convert, or venues that have underused or decommissioned equipment.
Get in touch if you have a suggestion, correction, or update: info@sprocketschool.org
We include 70mm venues but if you would like to see 70mm capable venues only go here: List of 70mm film exhibitors
How this list was compiled
This list was compiled from many sources: news articles, theater websites, film listings, and social media, as well as correspondence with filmgoers and projectionists, technicians, programmers, and others employed by exhibitors. Many thanks to everyone who's written in with contributions.
The list is revised whenever new information is available. We welcome suggestions.
United States
Alabama
Alaska
Arizona
Arkansas
California
4 Star Theatre (Lee Neighborhood Theatres) - San Francisco, CA (35mm - platter)
Aero Theatre - Santa Monica, CA (35mm/70mm - changeover)
Ahrya Fine Arts - Beverly Hills, CA (35mm - changeover)
Alex Theatre - Glendale, CA (35mm - changeover)
American Cinematheque at the Aero and Egyptian - Los Angeles, CA
AMC City Walk IMAX - Los Angeles, CA
ArcLight Beach Cities - El Segundo, CA
ArcLight Hollywood / Cinerama Dome - Hollywood, CA (35mm/70mm - platter)
ArcLight La Jolla- San Diego,CA (35mm/70mm - platter)
ArcLight Sherman Oaks - Sherman Oaks, CA
Autry Museum of the American West - Wells Fargo Theater - Los Angeles, CA (16mm/35mm)
Balboa Theatre - San Francisco, CA (35mm)
Berkeley Underground Film Society - Berkeley, CA (16mm,small gauge)
Black hole cinematheque - Oakland, CA (16mm,small gauge)
Canyon Cinema Salon at Nothing New Cinema - San Francisco, CA (16mm)
Billy Wilder Theater (at UCLA) - Los Angeles, CA (16mm/35mm - changeover)
Castro Theatre - San Francisco, CA (35mm/70mm - changeover)
Cinecon at the Egyptian Theatre - Hollywood, CA
CSUN Cinematheque (at California State University, Northridge)- Northridge, CA (35mm - changeover)
Delancey Street Screening Room - San Francisco, CA (16mm/35mm - changeover)
Downtown Independent LA - Los Angeles, CA (35mm - changeover)
Echo Park Film Center - Los Angeles, CA (16mm)
Egyptian Theatre - Los Angeles, CA (16mm/35mm/70mm - changeover)
The Eureka Theater - Eureka, CA (16mm/35mm - changeover)
Exploratorium - San Francisco, CA (16mm)
The Getty Center - Lost Angeles, CA
Grand Lake Theatre - Oakland, CA (35mm/70mm)
Grindhouse Film Festival at the New Beverly Cinema - Los Angeles, CA
Heavy Midnights (at the New Beverly) - Los Angeles, CA
Hillcrest Cinemas (Landmark Theatres) - San Diego, CA (35mm)
James Bridges Theater (at UCLA) - Los Angeles, CA (16mm/35mm/70mm - changeover)
Ken Cinema (Landmark Theatres) - San Diego, CA (35mm)
La Paloma - Encinitas, CA (35mm - platter)
Lark Theater - Larkspur, CA
Light Field - San Francisco, CA
Linwood Dunn Theater (at the Academy of Motion Picture Arts & Sciences) - Hollywood, CA (16mm/35mm/70mm - changeover)
The Legion Theater - Hollywood, CA (35mm/70mm)
Los Angeles County Museum of Art - Los Angeles, CA (16mm/35mm/70mm - changeover)
Los Angeles Filmforum (often at the Egyptian Theater) - Los Angeles, CA
Lost and Found Film Club - Lost Angeles, CA (16mm)
Melnitz Movies at the James Bridges Theater, UCLA - Los Angeles, CA
Midnites for Maniacs at the Roxie Theater - San Francisco, CA
Museum of Photographic Arts - San Diego, CA (16mm/35mm - changeover)
New Mission Theater (Alamo Drafthouse) - San Francisco, CA (35mm/70mm - changeover)
New Nothing Cinema - San Francisco, CA (16mm)
Niles Essanay Silent Film Museum & Edison Theater - Fremont, CA (16mm/35mm - changeover)
Noir City (at the Castro Theatre) - San Francisco, CA
Nuart Theatre (Landmark Theatres) - West Los Angeles, CA
New Beverly Cinema - Los Angeles, CA (16mm/35mm - changeover)
Oddball Films - San Francisco, CA (16mm)
Other Cinema - San Francisco, CA
Pacific Film Archive (Berkeley Art Museum) - Berkeley, CA (16mm/35mm - changeover)
Paramount Theatre of the Arts - Oakland, CA (16mm/35mm - changeover)
Phyllis Wattis Theater (at SF Moma) - San Francisco, CA (35mm - changeover)
REDCAT - Los Angeles, CA (16mm/35mm - changeover)
Roxie Theater - San Francisco, CA (16mm/35mm - changeover)
Samuel Goldwyn Theater (at Academy of Motion Picture Arts & Sciences) - Hollywood, CA (16mm/35mm/70mm - changeover)
San Francisco Film Society - San Francisco, CA
San Francisco Cinematheque - San Francisco, CA
San Francisco Silent Film Festival (at the Castro Theatre) - San Francisco, CA
Secret Sixteen (at the Jumpcut Café) - Studio City, CA
Shapeshifters Cinema (at the Temescal Art Center) - Oakland, CA (16mm,Small gauge)
The Small Back Room - El Cerrito, CA
Smith Rafael Film Center at the California Film Institute - San Rafael, CA (16mm/35mm - changeover)
Stanford Theatre - Palo Alto, CA (35mm - changeover)
The State Theatre - Modesto, CA (35mm)
TCM Classic Film Festival - Los Angeles, CA
Victoria Theatre - San Francisco, CA (16mm/35mm)
Yerba Buena Center for the Arts - San Francisco, CA
Colorado
Connecticut
Delaware
District of Columbia
Florida
Georgia
Hawaii
Idaho
Illinois
Block Cinema (at the Block Museum, Northwestern University) - Evanston, IL
Chicago 8 Fest (at Cinema Borealis) - Chicago, IL
Chicago Filmmakers - Chicago, IL
Chicago Film Society - Chicago, IL
Cinema Borealis - Chicago, IL
Conversations at the Edge (at the Gene Siskel Film Center) - Chicago, IL
Chicago Underground Film Festival - Chicago, IL
Doc Films (at the University of Chicago) - Chicago, IL
Egyptian Theatre - DeKalb, IL
Eye & Ear Clinic (at the School of the Art Institute) - Chicago, IL
Eyeworks Festival of Experimental Animation - Chicago, IL
Facets Cinématheque - Chicago, IL
Film Rescue - Chicago, IL
Film Studies Center (at the University of Chicago) - Chicago, IL
Gene Siskel Film Center - Chicago, IL
Logan Center for the Arts - Chicago, IL
Museum of Contemporary Art Chicago - Chicago, IL
Music Box Theatre - Chicago, IL
The Nightingale - Chicago, IL
Northbrook Public Library - Northbrook, IL
Onion City Experimental Film Festival - Chicago, IL
South Side Projections - Chicago, IL
Virginia Theatre - Champaign, IL
White Light Cinema (often at The Nightingale) - Chicago, IL
Indiana
Iowa
Kansas
Kentucky
Louisiana
Maine
Maryland
Massachusetts
Michigan
Minnesota
Mississippi
Missouri
Montana
Nebraska
Nevada
New Hampshire
New Jersey
New Mexico
New York
North Carolina
North Dakota
Ohio
Oklahoma
Oregon
Pennsylvania
Puerto Rico
Rhode Island
South Carolina
South Dakota
Tennessee
Texas
Utah
Vermont
Virginia
Washington
West Virginia
Wisconsin
Wyoming
Argentina
Australia
Austria
Belgium
Bolivia
Brazil
Canada
Alberta
British Columbia
Manitoba
New Brunswick
Newfoundland and Labrador
Nova Scotia
Ontario
Prince Edward Island
Quebec
Saskatchewan
Northwest Territories
Yukon
China
Colombia
Cuba
Czech Republic
Denmark
Egypt
Finland
France
Germany
Greece
Hungary
India
Ireland
Italy
Japan
Mexico
Netherlands
Norway
Philippines
Portugal
Singapore
Slovakia
Slovenia
South Korea
Spain
Sweden
Switzerland
Turkey
United Kingdom
England
Northern Ireland
Scotland
Wales
DRWM at the National Library of Wales Penglais Aberystwyth - Aberystwyth, Wales
Exhibitors without borders
See also
External links