Welcome to Sprocket School! This project is maintained by volunteer editors. A guide to editing.
List of analog film exhibitors
Jump to navigation
Jump to search
A list of exhibitors who intentionally show films on film to the public — cinemas, movie theaters, festivals, museums, and itinerant groups.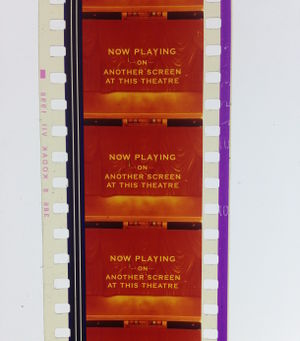 Project description
The list includes exhibitors who show a mix of film and digital and exhibitors who only occasionally show film, as well as exhibitors who show 16mm or other small gauge film but not 35mm. The list attempts to only include exhibitors who have at least screened film in the past year, and excludes venues that have underused or decommissioned equipment. It is continually being updated.
How to use this list
Peruse by state or country!
The list is revised whenever new information is available. We welcome suggestions. Get in touch if you have a suggestion, correction, or update: info@sprocketschool.org
We include 70mm venues but if you would like to see 70mm capable venues only go here: List of 70mm film exhibitors
Remember, this list is continually being updated and things change fast in filmland. Proceed with caution when using for any kind of data collection.

How this list was compiled
This list was compiled from many sources: news articles, theater websites, film listings, and social media, as well as correspondence with filmgoers and projectionists, technicians, programmers, and others employed by exhibitors. Many thanks to everyone who's written in with contributions.
United States
Alabama
Alaska
Arizona
Arkansas
California
Northern California
4 Star Theatre (Lee Neighborhood Theatres) - San Francisco, CA (35mm - platter)
Balboa Theatre - San Francisco, CA (35mm)
Black hole cinematheque - Oakland, CA (16mm,small gauge)
Canyon Cinema Salon at Nothing New Cinema - San Francisco, CA (16mm)
Castro Theatre - San Francisco, CA (35mm/70mm - changeover)
Delancey Street Screening Room - San Francisco, CA (16mm/35mm - changeover)
The Eureka Theater - Eureka, CA (16mm/35mm - changeover)
Exploratorium - San Francisco, CA (16mm)
Grand Lake Theatre - Oakland, CA (35mm/70mm)
Lark Theater - Larkspur, CA
Light Field - San Francisco, CA
Midnites for Maniacs at the Roxie Theater - San Francisco, CA
New Mission Theater (Alamo Drafthouse) - San Francisco, CA (35mm/70mm - changeover)
New Nothing Cinema - San Francisco, CA (16mm)
Niles Essanay Silent Film Museum & Edison Theater - Fremont, CA (16mm/35mm - changeover)
Noir City (at the Castro Theatre) - San Francisco, CA
Oddball Films - San Francisco, CA (16mm)
Other Cinema - San Francisco, CA
Pacific Film Archive (Berkeley Art Museum) - Berkeley, CA (16mm/35mm - changeover)
Paramount Theatre of the Arts - Oakland, CA (16mm/35mm - changeover)
Phyllis Wattis Theater (at SF Moma) - San Francisco, CA (35mm - changeover)
Rialto Cinemas Cerrito - Cerrito, CA (35mm - changeover/platter)
Roxie Theater - San Francisco, CA (16mm/35mm - changeover)
San Francisco Film Society - San Francisco, CA
San Francisco Cinematheque - San Francisco, CA
San Francisco Silent Film Festival (at the Castro Theatre) - San Francisco, CA
Shapeshifters Cinema (at the Temescal Art Center) - Oakland, CA (16mm,Small gauge)
The Small Back Room - El Cerrito, CA
Smith Rafael Film Center at the California Film Institute - San Rafael, CA (16mm/35mm - changeover)
Stanford Theatre - Palo Alto, CA (35mm - changeover)
The State Theatre - Modesto, CA (35mm)
Victoria Theatre - San Francisco, CA (16mm/35mm)
Yerba Buena Center for the Arts - San Francisco, CA
Southern California
Colorado
Connecticut
Delaware
District of Columbia
Florida
Georgia
Hawaii
Idaho
Illinois
Indiana
Iowa
Kansas
Kentucky
Louisiana
Maine
Maryland
Massachusetts
Michigan
Minnesota
Mississippi
Missouri
Montana
Nebraska
Nevada
New Hampshire
New Jersey
New Mexico
New York
New York City - Brooklyn
New York City - Manhattan
New York City - Queens
Rochester
Syracuse
North Carolina
North Dakota
Ohio
Oklahoma
Oregon
Pennsylvania
Puerto Rico
Rhode Island
South Carolina
South Dakota
Tennessee
Texas
Utah
Vermont
Virginia
Washington
West Virginia
Wisconsin
Wyoming
Argentina
Australia
New South Wales
Queensland
Victoria
Austria
Belgium
Bolivia
Brazil
Canada
Alberta
British Columbia
Manitoba
New Brunswick
Newfoundland and Labrador
Nova Scotia
Ontario
Prince Edward Island
Quebec
Saskatchewan
Northwest Territories
Yukon
China
Colombia
Cuba
Czech Republic
Denmark
Ecuador
Egypt
Estonia
Finland
France
Paris
Germany
Berlin
Frankfurt
Greece
Hungary
India
Ireland
Italy
Japan
Chūbu
Aichi
Nagano
Chūgoku
Hiroshima
Yamaguchi
Hokkaidō
Kansai
Hyōgo
Kyōto
Ōsaka
Kyūshū
Fukuoka
Ōita
Cinema Five - Ōita
Kantō
Chiba
Gunma
Kanagawa
Saitama
Tokyo
Mexico
Netherlands
Norway
Philippines
Portugal
Russia
Singapore
Slovakia
Slovenia
South Korea
Spain
Sweden
Switzerland
Turkey
United Kingdom
England
East of England
East Midlands
London
North East
North West
South East
South West
West Midlands
Yorkshire and the Humber
Northern Ireland
Scotland
Wales
DRWM at the National Library of Wales Penglais Aberystwyth - Aberystwyth, Wales
Uruguay
International
See also
External links